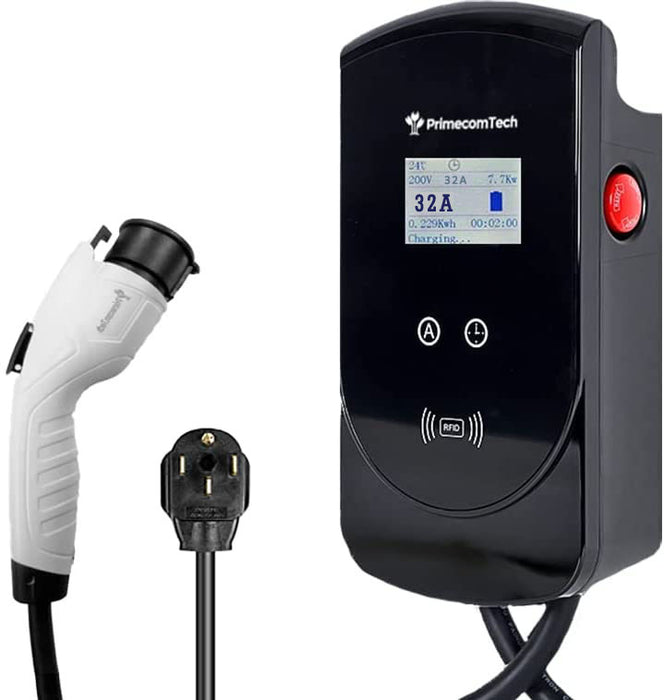 Level 2 EV Charger - 32 & 40 Amp 220 Volt 25 & 30 Feet Length
Original price
$449.00
-
Original price
$899.00
Smart Electric Vehicle Home Charging Station
32 & 40 Amp - PRIMECOM.TECH Level-2 Smart Electric Vehicle Home Charging Station 220 Volt 25 & 30 Feet Length

🔋 UP TO 8X FASTER CHARGING — PRIMECOM Level 2 chargers feature 32Amp & 40Amp models working within a range of 100V - 240V. Thus providing Up To 8 Times Faster than your manufacturer-provided Level 1 110v charger! The 32Amp model charges at 7.2kw/hour giving 30 miles of range per hour! The 40Amp model charges at 9.6kw/hour giving you 38 miles of range per hour!

📟 DISPLAY SCREEN — Our charger features a real-time data screen that displays relevant information such as, real-time charging Amperage, actual charging Voltage, total kilowatt consumption, current temperature, and other informative data values.

📱 INTELLIGENT CHIP — Intelligent chip automatically adjusts amperage by communicating with EV's computer to SAFELY supply the requested amperage.

⚙️ SAFE AND SECURE — Primecom Level 2 Chargers have passed multi-point rigorous tests to ensure quality and safety measures. TÜV German Equipment and Product Safety Certification, CE️ certifications, along with 12 other built-in safety features

☎️ UNITED STATES SELLER — 12-month warranty and lifetime hassle-free technical support. What distinguishes PRIMECOM is a California Company. Our products are designed here in California. You can reach us at support@primecom.tech Phone 1-408-215-2023. We are not satisfied until you are, and we are here to help you 24/7.