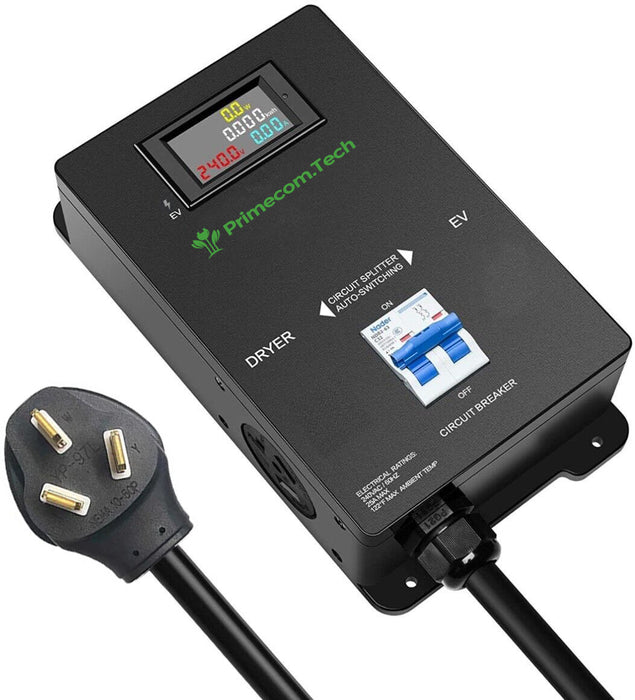 Dryer outlet 24 Amp Automatic Power Splitter Smart Switch for EV
Save

$100.00
Save

$100.00
Original price
$499.00
-
Original price
$499.00
SAVE MONEY & TIME: Avoid electrical upgrades and save thousands on home electric vehicle (EV) charging by sharing your 240 volt dryer circuit with your EV, through a simple plug-in installation. The Smart Splitter plugs directly into your 3-prong dryer outlet for Level 2 electric vehicle (EV) charging access.
SMART POWER MONITORING AND SWITCHING: Automatically switches between your dryer and EV so you don't have to. Your EV instantly begins charging once your dryer cycle is done. NEW Smart Splitter app coming soon with real time energy monitoring via LCD Display.
SAFE AND RELIABLE : Backed by a 1-year warranty with EV charging expert customer support from a company dedicated to EV charging for 5+ years. CE listed for electrical safety to ensure you and your family feel comfortable and confident with your home EV charging setup.
SUPPORTS NEMA 10-30, 10-50, 14-30, 14-50 DRYER OUTLETs: Compatible with all EV Chargers (EVSE) up to 24 Amps including the Tesla Mobile Connector. This model often requires a NEMA 14-50R to NEMA 10-30P adapter, as the Smart Splitter is built with one NEMA plug and 2 NEMA outlets on each side. Please refer to the product pictures to verify that your outlet and plugs match the correct model.
INSTALLS IN MINUTES. NO REWIRING REQUIRED: Easy to plug into your existing dryer outlet in minutes to setup home EV charging. Tap into simple and effortless home EV charging access, no panel upgrades, no rewiring, no appointments.