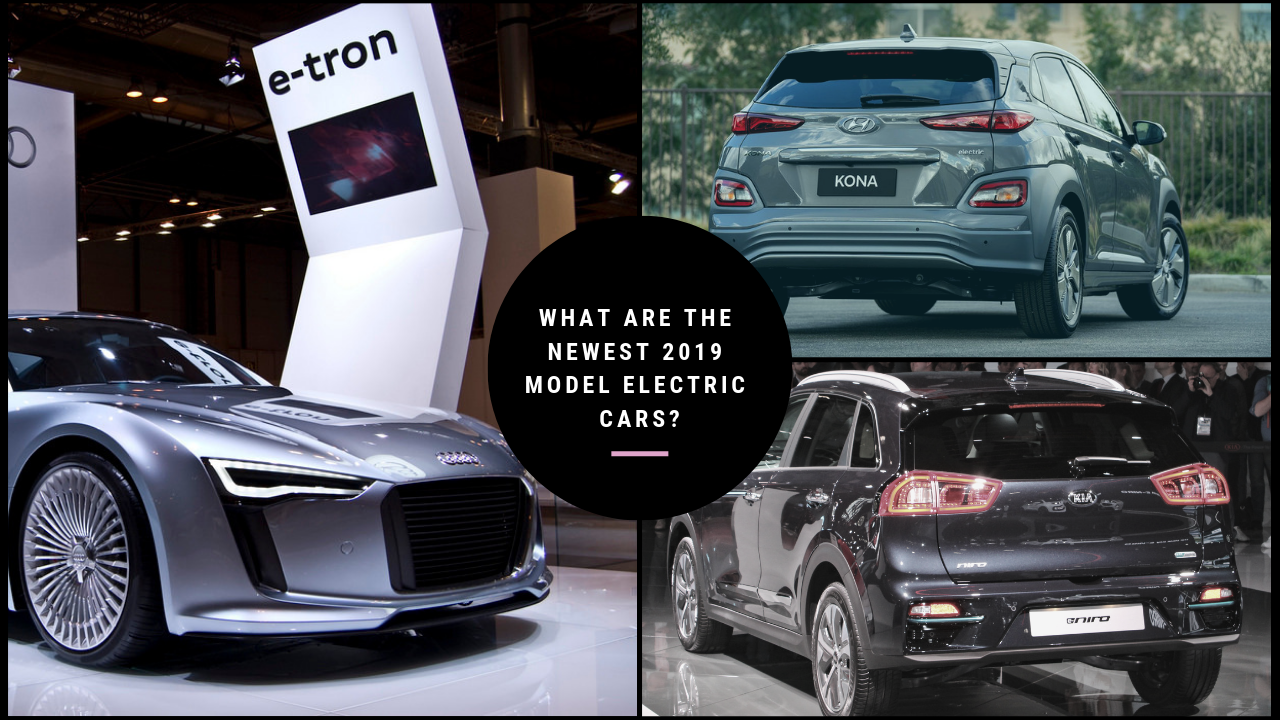 What are the newest 2019 model electric cars?
There was once a time when early buyers of electric cars had an extremely limited choice. They could either get a compact vehicle that appeared to be tagged with a "tree hugger" label or had to invest a sizable portion of their savings to buy an expensive luxury model. Thankfully, those days are a thing of the past. Whether you are looking to buy a compact and functional environment-friendly electric car today, or opt for a speedier version that spells luxury, you can get a lot of choices in terms of the make and model. 
In the US, more than 40 different models of EV and plug-in hybrids are available today for buyers to take their pick from. From fully electric, no-nonsense Smart ForTwo micro-cars that look cute as a button to pickup trucks with e-assist to Chrysler Pacifica Hybrid (which is the first-ever hybrid minivan in the US that can seamlessly switch from electric to gas), customers now have a tough decision on their hands. But this scenario is definitely a boon for the customers as companies are now competing with each other to bring newer and better models of electric cars with modern features and value-added services to retain their existing clientele while bringing in new customers. With almost every passing year, buyers of all-electric vehicles are getting more options offered to them and 2019 isn't going to be any different. Let's take a look at some new models of electric cars that will make this an exciting year for potential EV buyers.
Those looking for a compact electric SUV would love the Kona Electric that has a bold, roomy design coupled with a remarkable electric driving range. With a trunk capacity of 373L (VDA) together with sufficient room for the passengers, this value-oriented electric car boasts of a compelling balance of size and capability. Apart from the full-LED twin headlights (that are a characteristic KONA feature), this EV has exclusive 17" alloy wheels, a central console with shift-by-wire controls, smart regenerative braking, and is made available in 3 contrasting roof colors and 7 exterior colors.
Some of its notable features include:
Maximum output: 150kW
Maximum speed: 167 km/h
Acceleration (0-100km/h): 7.6 seconds
While Kona Electric's normal charging (7.2kW) time is 9 hours and 35 minutes, its fast charging (7.2kW) would take just 54 minutes (up to 80% state of charge, in case a 100kW DC charging station is used to charge the vehicle).
According to the automaker, this car (on a single charge) is estimated to give a total range of 258 miles. Apart from Tesla, this driving range is more than any other EV. When you compare it to the Chevrolet Bolt, you will get 20 more miles of range from the Kona Electric. When coupled with a few more inches of rear shoulder space and almost three more feet of cargo, the Kona Electric (whose starting price for the base SEL trim level is expected to be $35,000 to $37,000) is worth buying. The car is expected to be available in the global markets around July-August 2019, though in some European countries, it could be made available much faster.
This all-electric crossover that expands upon Niro's family of hybrid crossovers comes with an electric motor that provides an anticipated 201 horsepower. On a single charge, this EV is targeting a maximum of 240-mile range, and its liquid cooled high-tech battery can be called the driving force behind it. With a more natural HMI (human-machine interface), improved aerodynamic efficiency (attributed to its smoother front fascia), 17-inch alloy wheels, state-of-the-art in-cabin technology, all-electric powertrain, and a convenient charge port (that has replaced the front intake grille), this car will be worth your money. 
Some of its notable features include:
Maximum output: 150kW
Maximum speed: 167 km/h
Acceleration (0-100km/h): 7.8 seconds
Electric range: 385 kms
Though its normal charging (0 to 385 km) time is 10 hours and 30 minutes, its fast charging (39 to 308 km) would take 45 minutes.
Though Kia e-Nero's US price isn't yet known, it would cost £32,995 in the UK and €42,510 in the Netherlands.
3. Audi E-Tron
Unlike upscale SUVs that attract attention like the Tesla Model X or the Jaguar I-Pace, the Audi e-Tron can let you steer clear of attention in case you don't want any though it also belongs to the upscale electric SUV category. With a price tag of $75,795, the e-Tron has a lot of similarity with a Q5 in terms of looks and performance.
Some of its notable features include:
Maximum output: 300kW
Maximum speed: 200 km/h
Acceleration (0-100km/h): 5.7 seconds
Though its normal charging (0 to 370 km) time is 9 hours, its fast charging (37 to 296 km) would take just 30 minutes. Audi is yet to certify the e-Tron's range but with a 95 kWh battery, this car's range is projected to be around 300 miles.
Audi E-Tron would cost £67,990 in the UK and €84,100 in the Netherlands. By the second quarter of 2019, this car is expected to be available in global markets.          
Since the inception of the original Nissan Leaf in 2010, it has gained huge popularity with over 380,000 cars sold. However, with 151 miles of range, this model seems to be no longer competitive in today's landscape, especially when its competitors include long-range EVs like the 310-mile Tesla model 3 and the 238-mile Chevrolet Bolt. To gain its popularity back, Nissan is going to introduce Leaf e+ which will be on par with Kona Electric and Bolt EV in terms of both power and range.
The new Leaf e+ boasts of a much larger 62 kWh instead of the present 40 kWh battery. In addition, the existing 110 kW battery capable of producing 147 horsepower has also been replaced by a 215 horsepower, 160 kW unit. This leads to a 13% improvement in acceleration time in Leaf - from 50 mph to 75 mph, according to Nissan.
The upgrade on the second-generation Leaf, which was introduced in 2017, is also equipped with two-way power flow through the charger capability. It means the new e+ can also serve as a generator for your home. It'll have the latest version in ProPilot Assist semi-autonomous assistance technology of Nissan.
Some of its notable features include:
Maximum output: 160kW
Maximum speed: 150 km/h
Acceleration (0-100 km/h): 7.0 sec
In Japan, the e+ will be available in January 2019 at the base price of ¥4,162,320 (approximately $38,370). However, buyers in the US will have to wait till this spring. It'll go on for sale in Europe after a couple of months of its arrival in the US. In Europe, Leaf 3.ZERO e+ would start from €45,500.
The first all-electric crossover from the house of Mercedes, the Mercedes-Benz EQC is going to become a tough competitor like Tesla Model X, Jaguar I-Pace and the upcoming BMW iX3 and the Audi e-Tron. The new 5-seat EQC SUV is based around a highly modified version of the GLC platform. However, at 1324mm tall, 1884mm wide and 4761mm long, the EQC is considerably 315mm lower and 105mm longer compared to the GLC.
The newly developed drivetrain, which will be used across the entire EQ range, powers the EQC. It also enables owners with four-wheel drive capability with its two electric motors – one powering the rear wheels, and another the front ones. Each of them is differently configured: the front one is optimized for efficiency in the low- to mid-load range while the rear one is tuned for performance. Top speed of EQC is restricted to 112mph with a sprint from zero to 62mph in 5.1 sec.
Power to the motors comes from an 80kWh battery and its AC charging can be done through either high-voltage public charging stations or regular mains. The EQC's batter is capable of charging from 10% to 80% at up to 110kW at about 40 minutes.
Some of its notable features include:
Acceleration (0-60mph): 4.9sec
Top speed: 112mph
402 horsepower
MBUX infotainment system
Five driving modes
Drive type: all-wheel drive
The EQC will be available to order in this spring with both the two trim levels – AMG Line and Electric Art.
Final Takeaway
The market for electric vehicles is surely going to explode with an assortment of these and other newer models arriving in the near future. Last year, we've witnessed only the beginning of a move toward greater electrification in the automobile industry with a majority of manufacturers primed to unleash more accomplished and desirable battery-assisted products this year. But increased utilization of lithium-ion is only the beginning, as 2019 looks all set to usher in an entire set of key automotive tech trends. The sudden rush among auto manufacturers to develop electric vehicles has transformed from being only a niche endeavor. Instead, it has become the key to the future of the entire automotive industry - for both the established names as well as the startups.