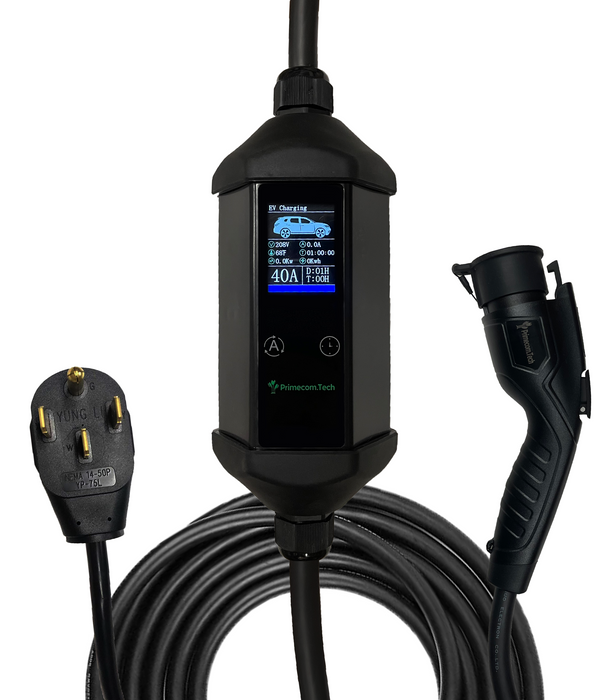 Level 2 EV Charger 220 Volt 40 & 48 Amp - Car Charger 30 - 40 - 50 Feet
Save

$100.00
Save

$100.00
Original price
$699.00
-
Original price
$999.00
Level-2 Electric Vehicle Charger
Introducing our high-quality EV chargers for fast and efficient charging. Our 40 & 48 Amp models are perfect for home or commercial use, offering 220V power and cable lengths of 30, 40, or 50 feet. Trust in Primecom's chargers to keep your electric vehicle charged and ready to go!
🔋Primecom Level 2 chargers provide up to 6-7 times faster charging than standard Level 1 110v chargers. The 32Amp model charges at 7.2kw/hour, giving you 30 miles of range per hour. The 40Amp model charges at 9.6kw/hour, providing 38 miles of range per hour!
⚙️Safety is our priority. Primecom chargers have passed rigorous tests and hold TÜV German Equipment and Product Safety Certification, as well as CE certifications. They come with 12 built-in safety features, including lightning-proof, leakage protection, overvoltage, overheat, and overcurrent protection. The chargers are also IP55 waterproof and feature LED charge status indicators.
⌚️Take advantage of off-peak electricity rates with our delay timer, offering up to 15 hours of programmable charging time.
📟Stay informed with our charger's real-time data screen, displaying charging amperage, voltage, kilowatt consumption, temperature, and other useful information.
📱Our chargers feature an intelligent chip that automatically adjusts amperage, ensuring efficient and safe charging for all EV brands. They are also waterproof, allowing for outdoor use.
☎️As a California company, Primecom offers a 12-month warranty and lifetime technical support. Reach out to us anytime at support@primecom.tech or call 1-408-215-2023. We are dedicated to your satisfaction and available 24/7.