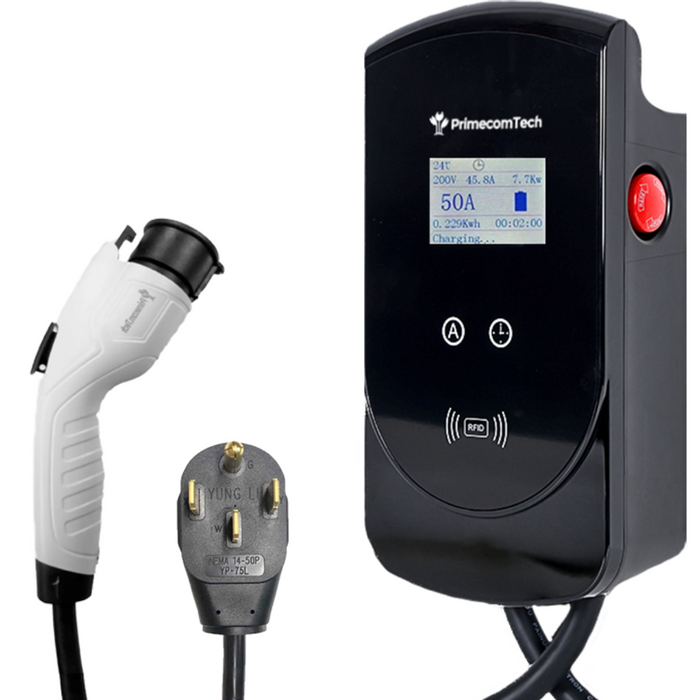 50 Amp Level 2 Adjustable EV Charger - 30 & 25 Feet Length
Original price
$799.00
-
Original price
$1,299.00
Smart Electric Vehicle Home Charging Station
|

electric vehicle home charging station
🔋 THIS CHARGERS AMPERAGE IS MANUALLY ADJUSTABLE from 50 Amps, 48, 40, 32, 30, 28, 25, and 12 Amps Modes with the front button selection. It provides up to 12KWh power up to 10X Faster charging (compared to the Factory provided 110V Charger).

📱 LONGER CORD OPTIONS & INTELLIGENT CHIP — Intelligent chip automatically provides the requested amperage from your EV.

☔️ PRIMECOM SMART CHARGERS are waterproof and safe to use outdoors. Fully Outdoor Usable with IP56 rating waterproof status.

⌚DELAY TIMER: Up to 15 Hours (in 1 Hour increments) It has also a time of the charge (count down timer function) to take advantage of discount electric company rates.

📟 DISPLAY SCREEN — Our charger features a real-time data screen that displays relevant information such as real-time charging Amperage, actual charging Voltage, total kilowatt consumption, current temperature, and other informative data values.

⚙️ SAFE AND SECURE — Primecom Level 2 Chargers have passed rigorous tests to ensure quality measures. TÜV German Equipment & Product Safety Certification, CE️ certifications, UL️ Listed Cable Certifications, along with 12 other built-in safety features. The product is featuring a control box with LED charge status indicators.

🚙 UNIVERSAL COMPATIBILITY! Works with all brand EVs and PHEVs Cars including TESLA (Tesla EVs require TESLA J1772 to UMC adapter which comes with every new Tesla).

💳 RFID Key: Provided RFID keys allow you to enable or disable charger authorization if needed on a company or public installation options.

🔌BECAUSE WE USE PURE copper cable on our chargers; we can go up to 100 feet without significant voltage drop. Others may have Aluminum mix cable which literally can not be longer than 18-20 feet because of voltage drop hence creating extra heat.