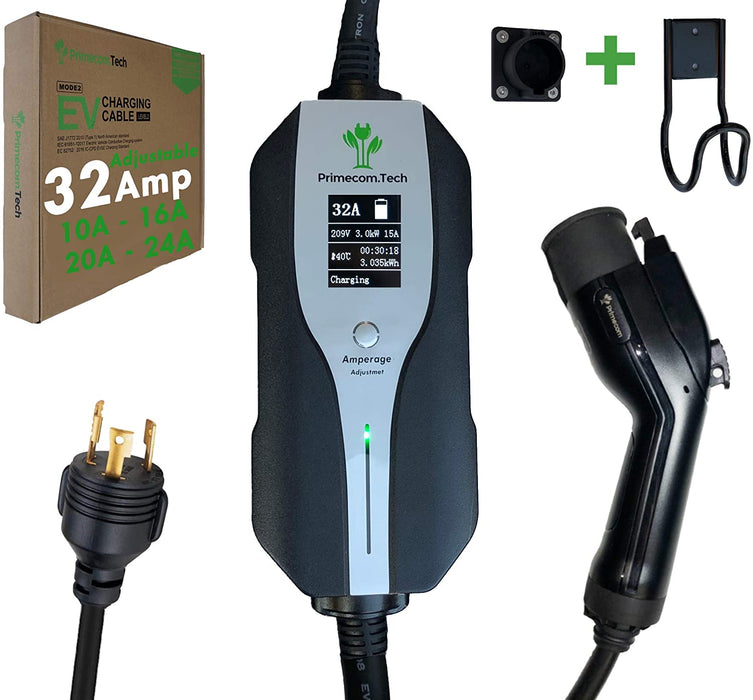 Level 2 Electric Vehicle (EV) Charger Amperage Adjustable
Original price
$399.00
-
Original price
$749.00
Primecom level 2

EVSE 

charger Charger
We are proud to introduce our new level 2 EVSE Charger, which is designed to be a cost-effective solution for charging your electric vehicle.

The EVSE comes in 10A, 16A, 20A, 24A, and 32A models and features an Amperage Adjustable option that allows you to choose the right power level for your vehicle. 

The EVSE is compatible with all types of electric vehicles currently available on the market today, including hybrids and electric buses!
🔋This Primecom Level 2 Electric Vehicle Charger is manually amperage adjustable from 32-Amps, 24, 20, 16, and 10-Amps Modes with front button selection providing up to 7.8KWh power up to 6X Faster charging (compare the Factory provided 110V Charger). You can use your dryer outlet to get the maximum benefit from this charger without needing any electrical infrastructural change.

This PRIMECOM Level 2 EV charger functions up to 32-Amp working within a range of 90-Volt to 250-Volt.

Works with all brand EVs, Plug-in Hybrid Vehicles (PHEVs).

This Amperage Adjustable model charges up to 7.8kw/hour giving you up to 30 miles of range per hour charging performance

!

Ease of use, a large color LCD digital display shows much of the valuable information at a glance. Such as input, output, Amperage, and voltage. accumulated kilowatt, current kilowatt usage, temperature, etc.

☔️— Primecom Smart chargers are waterproof and are safe to use outdoors.

📱 INTELLIGENT CHIP — PRIMECOMTECH designs its own SMART chargers with electronic circuitry-intelligent Chip & software here in the USA, unlike other chargers which dump all the current at once. PRIMECOMTECH EV Chargers communicate with your EV via the data connection port to gather 6 different types of data such as ambient and battery temperature, EV's current battery level, Battery Capacity, etc. to automatically adjust the voltage to get the most life expectancy from your battery.

🔌 PLUG AND PLAY — Connects to your Dryer Outlet! No need to run expensive wiring or costly electrician installation!

Use your 3 or 4 Prong 220/240-Laundry Dryer Outlet at the Garage.

Select the appropriate NEMA outlet type that you have at your home from above. 10-30, 10-50, 14-30, 14-50, 6-20, 6-30, 6-50, L14-30, L6-30, or 5-15 (110Volt regular outlet: at slow speed charging) and European 🚙 UNIVERSAL COMPATIBILITY! Works with all brand EV Cars.
In order to understand what plug type you need please check this link.

The amperage setting is adjustable by simply pressing the amperage button, below the display screen. You can set between 10-Amp 16-Amp 20-Amp 24-Amp and 32-Amp settings with the easiness of a touch of a button.

🛡 SAFE AND SECURE — Primecom Level 2 Chargers have passed multipoint rigorous tests to ensure quality and safety measures. TÜV German Equipment and Product Safety Certification, CE️ certifications, UL️ Listed Cable Certifications, along with 12 other built-in safety features such as lightning-proof, leakage protection, overvoltage, overheat, overcurrent protection, UL94V-0 rating flame resistance, IP66 rating waterproof.🖲 Also featuring a control box with LED charge status indicators, to i

☎️ UNITED STATES SELLER — 12-month warranty and lifetime hassle-free technical support. THERE MAY BE SIMILAR CHARGES ON AMAZON and EBAY (or other online resellers), what distinguishes PRIMECOM is a California Company. Our products are designed here in California. You can reach us at support@primecom.tech Phone 1-408-598-3300.

We are not satisfied until you are, and we are here to help you 24/7.
We also offer Tesla Wall Connector