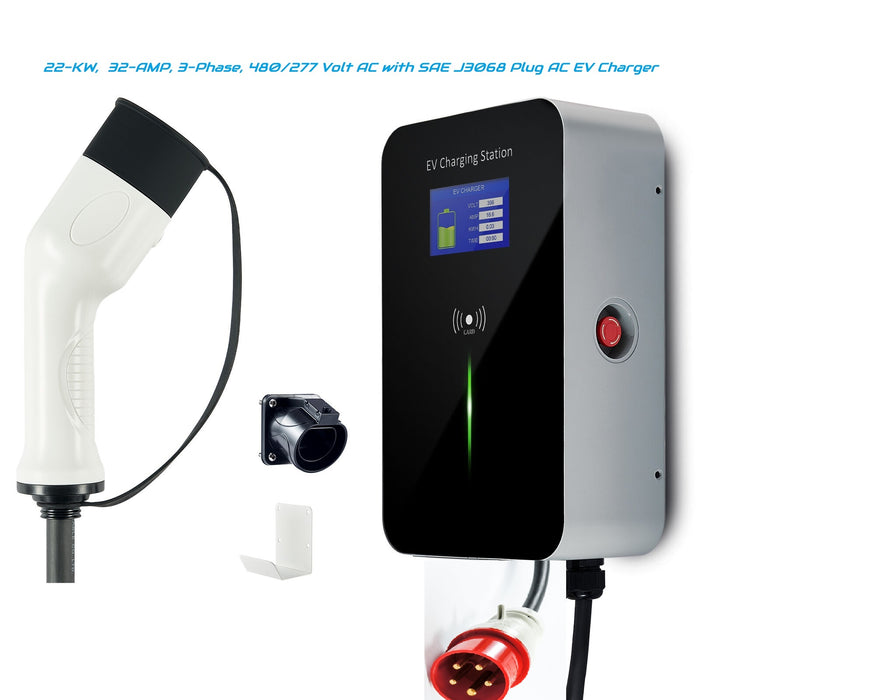 SAE J3068 22kW EV Charger 480V / 277V AC 32 Amp 3-Phase Wallbox
Save

$249.00
Save

$249.00
Original price
$1,499.00
-
Original price
$1,499.00
SAE J3068  22kW EV Charger 480V/277V AC  32 Amp 3-Phase Wallbox
Our SAE J3068 22kW EV Charger is designed to provide fast and efficient charging for your electric vehicle. With upto 480V power and 32 Amp 3-Phase Wallbox, our charger is suitable for both residential and commercial use. Trust in our high-quality charger to keep your EV charged and ready to go!
Features
FAST & EASY TOP-UP:

 

This portable level 2 electric vehicle charger offers three-phase 32A charging up to 22kW, letting you top off your electric vehicle up to 7x faster than standard plug-in charging.
WIDE COMPATIBILITY:

 

Our mobile EV charging station works for all SAE J3068 socketed electric

vehicle

and offers rapid stable charging compatible with all SAE J3068 Sockets
WEATHERPROOF DURABILITY:

 

This EV charger is expertly made of sturdy thermal plastic materials and premium copper to provide reliable, long-lasting service; its IP55 waterproof performance plus its ability to work at temperatures from as low as -25°C to as high as 50°C ensure worry-free indoor and outdoor use.
CONVENIENT OPERATION: The smart LED display lets you monitor your charging's voltage, amperage, power consumption, battery percentage, and session length in real time; the ergonomic handle offers sure and comfortable grip, while the extra-long cable allows you to recharge from within 5 meters of any Mennekes-style outlet.
DEPENDABLE SAFETY:

 

This CE & TUV certified charging station is only accessible using one of the 3 provided RFID key fobs, protecting externally mounted units from unauthorized use; the built-in type B circuit breaker (RCD) also provides comprehensive detection of various faults, ensuring a longer service life and a better charging experience.
💳 RFID Key: Provided 3pcs. RFID key chain fobs allow you to enable or disable charger authorization if needed on a company or public installation options.
📟 DISPLAY SCREEN — Our charger features a real-time data screen that displays relevant information such as real-time charging Amperage, actual charging Voltage, total kilowatt consumption, current temperature, and other informative data values.
⚙️ SAFE AND SECURE — Primecom Level 2 Chargers have passed rigorous tests to ensure quality measures. TÜV German Equipment & Product Safety Certification, CE️ certifications, UL️ Listed Cable Certifications, along with 12 other built-in safety features. The product is featuring a control box with LED charge status indicators.

🔋 THIS CHARGERS AMPERAGE IS MANUALLY ADJUSTABLE from 32 Amps, 32, 30, 28, 25, and 12 Amps Modes with the front button selection. It provides up to 22KWh power up to 20X Faster charging (compared to the Factory provided 110V Charger).

📱 LONGER CORD OPTIONS & INTELLIGENT CHIP — Intelligent chip automatically provides the requested amperage from your EV.

☔️ PRIMECOM SMART CHARGERS are waterproof and safe to use outdoors. Fully Outdoor Usable with IP56 rating waterproof status.

⌚DELAY TIMER: Up to 15 Hours (in 1 Hour increments) It has also a time of the charge (count down timer function) to take advantage of discount electric company rates.


Specifications
RFID key: Can be enabled for usage authorization (3 RFID Key fobs)
Material:

 

Aluminum Alloy, Acrylic, PA66, Plastic, Copper, TPU
Color:

 

Black
Max. Operating Voltage:

 

480/277 V AC
Max. Output Power:

 

22kW
Power Delivery: 3-Phase
Output Current:

 

32A
Plug Type:

 J3068

Charger Dimensions:

 

21.5 x 15 x 35 cm
Plug Dimensions:

 

23 x 8 x 7.5 cm
Cable Length:

 

5mt. / 25Ft.
Weatherproofing:

 

IP55
Operating Temperature Range:

 

-25 to 50°C
Net Weight:

 

9 kg
Package Weight:

 

9.5 kg
Certification:

 

CE, TUV
AC Power Connector Options: IEC60309-2 4-Pin or 5-Pin